Interviews and Reviews of Ben Folds Five's
The Unauthorized Biography of Reinhold Messner
---
The Daily Princetonian
The Daily Princetonian, the student paper at Princeton University in Princeton, NJ, ran an article previewing the show on October 28 there. The article is by Emma Soichet.
Ink Nineteen Interview
Jason Feifer interviewed Robert Sledge in the August 1999 issue of Ink Nineteen, a music paper available in Florida and Georgia.
MTV Online Interview
MTV News' interview with the band appears on MTV's Music Feature Archive section.
RockOnTV RealAudio Review
The online publication RockOnTV offers a 2-3 minute RealAudio Review of the new album.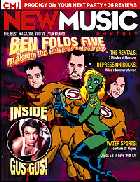 CMJ Coverboys Once More
The May issue of CMJ New Music Monthly features the band in superhero caricature on the cover. On the included CD, first track, is "Army", and the feature article by Tom Maxwell, the Squirrel Nut Zippers' guitarist/percussionist/horn player and collaborator on "Messner." It's one of the best articles written about the band to date, largely because of the personal involvement by the writer in the band's creative process, and their willingness to open up to a fellow redneck.
A quote from the article:
The band didn't believe that the decorative foil my wife Mel and I put on the carrot muffins we served was edible, either. "Do you want some more foil, Tom?" asks Ben later on, handing me the tin foil wrapper of his lunch.
Look for it at your newsstand this month!
Boston Phoenix Article
Thje Boston Phoenix has an article, "Model Rockers: Ben Folds Five Dress for Success" by Gary Susman in its April 22 issue. Here's a quote:
In their ability to coax a full, richly textured palette from an unconventional (for rock) guitar-less, three-piece line-up, BF5 bear a superficial resemblance to Boston's Morphine, with whom BF5 once toured. How do they do it? "Dana [Colley of Morphine] uses two saxophones at once," Folds observes, then deadpans, "I thought of using two pianos at once, but I couldn't fit them both in my mouth." "He does have a big mouth," adds Sledge.
And yes, the band will be featured in a Levi's ad, as mentioned in the article. It's going to be a billboard campaign with different artists including DeLaSoul, Beth Orton and Built to Spill. All the details aren't worked out yet, thus the billboards aren't up yet, but don't be surprised to see Robert staring down at you from above in a pair of Levi's as you drive down the parkway.
Rolling Stone Review
Rolling Stone Network features a review of the new album by Anthony DeCurtis in its online service.
---
Maintained by Frank Maynard. Please e-mail me if you encounter any failed links or would like to suggest a new listing.
---
Back to the Reviews Index | Main Page.